Author: Alice Clayton
Genre: Romance, New Adult
General Thoughts: Not as good as it could be.
Rating: 3/5 stars.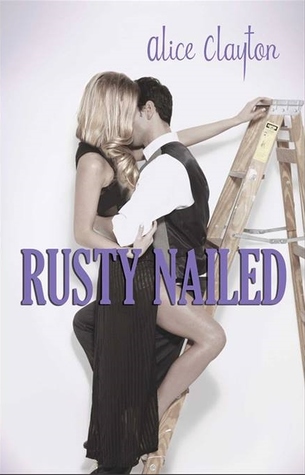 First Lines:
"Oh, God."Thump."OH, God".Thump thump."Caroline, don't say those things to me when I'm so far away." Simon chuckled, his voice loew. And still as thrilling as it ever was."Silly Simon, I'm simply reacting to the banging on the other side of the wall."
Rusty Nailed is the delicious sequel to Romance novel, Wallbanger. In here, Caroline and Simon's relationships reaches the stage of settling down in to normal life, which seems to have Caroline a little busy. And with all the overload of work she's getting, her life is soon to be a mess. She now has to find a way of balancing life or everything will come crumbling down.
My initial thoughts of this book where that it was better than the first book and that it was filled with much more character development and funnier scenes. But the more I thought about it the more I realized that it wasn't better than the first book, that it had way more flaws and holes than Wallbanger. And then I thought, wait, it is better in some ways than others. And then I thought, no it isn't and...
In resume, I'm not sure what to think about it, but this is what I've managed to gather down of my feelings.
I think that this book had a way better plot than the last one, because it wasn't only about Caroline and Simon's relationship, it was about: Caroline and Simon's relationship, how she felt, her work and how it was all too much and the friends and Simon's past and feeling good and traveling. And I think it's great that the author tried to add more to this novel, but I think somewhere in the way, she lost control of it. As in, she built up situations and resentment towards things that at the end of the book were never resolved or confronted. It's like she tried to create this big thing and then realized how massive it actually was and how out of control it got and then just forgot about a few things and focused on the other.
In my opinion, I think she should have found a better way to wrap things up, not to rush it as much and to pay attention to more details in the novel. I've come to the conclusion that she wrote things that she didn't know where going to have a consequences on how the novel was taken.
Or maybe I expected to much of this novel.
But I do appreciate her trying to change things down a bit, just not the final execution she gave it.
Something that really bothered me was the ridiculousness of some parts of the book. The whole Sophia-Neil business was plain ridiculous and not funny at all. It was annoying to read and it was obvious to were it lead. But the premise of the things that started it all (view spoiler) got me interested, but ended plain disappointed. And the fights that this would have caused gave foot to another yet great plot to add but she didn't see it and just wouldn't take the opportunity.
It was very interesting in some parts, others where boring. You'll forgive me, but I thought that Simon's High-school reunion scene was boring and she could have done better.
Also, in this book the predictive-ness was all over the place and unlike the first book it didn't really work, for me. I think that it all just went monotonically to were it was supposed to go and no real twist happened.
Writing this review has done wanders for me, I now have a clearer understatement of my thoughts.
In conclusion, I didn't have high expectations but expected better anyway. It was flawed and not very good and I didn't enjoy it as much as the first one. I do like the way it ended thought, even if she didn't quite wrap it as she should. And I recommend to read this if you have an urge of knowing what's next, but don't get high hopes on it.